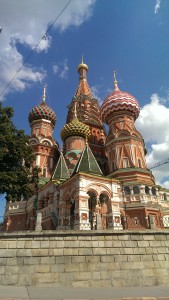 I have just returned from my first trip to Russia and the Moscow and Borok Labs. There was originally supposed to be fieldwork in southern Siberia this Summer: sampling rocks with the hope they would tell us about the Earth's magnetic field 400 million years ago. However, a few months back, we discovered that many of the targeted sections have already been studied by the Moscow group. The head of that lab – Vladimir Pavlov – invited me to visit to discuss the work and I gratefully accepted in lieu of the fieldwork. The decision to cancel the sampling trip seems to have been a good one – Vladimir's colleague Andrey Shatsillo had been there numerous times already and had a stack of data to show me and a sack of samples for me to return with. He also provided samples from some very intriguing sills of a similar age that gave good directions but which were highly anomalous. Vladimir and Andrey shared their opinion that the magnetic field was in a very strange state at this time – an intriguing hypothesis ripe for testing with the equipment at Liverpool and Borok.
In addition to discussing science in Moscow, I enjoyed a Georgian meal with Vladimir and a sightseeing tour given by Tatyana Gendler of the institute. I also gave a seminar in their grand lecture theatre which was translated, slide-by-slide, by Valera Shcherbakov, a rather famous scientist in our area who had come down from his lab in the town of Borok, 350 km to the north. After some sightseeing in Moscow, I accompanied Valera on an overnight train to Borok and spent the remaining 2 days of my trip there. In comparison to cosmopolitan Moscow, Borok and surrounding area felt like the Real Russia. Borok itself has only 2,000 inhabitants but a fascinating history as the only privately owned piece of land in communist Russia. The owner was rather qualified for this honour, a nobleman's son who had endured 28 years of jail as a communist revolutionary under tsarist rule. In prison, he had developed an interest in the sciences. He founded a biological institute in Borok and other research centres, including a geomagnetic observatory, followed in the ensuing years. Valera and his wife Valentina have been doing research at the palaeomagnetic lab at Borok for 40 years and their group continues to be one of the most prolific in the world.
I had never met Valentina Shcherbakova before but had read many of her papers. She had already measured samples from Devonian collections that I was interested in so we pooled data and discussed a further measurement plan. She provided me with still more samples so that we can compare data obtained using the different methods in place at Liverpool and Borok. Valentina and Valera were also extremely kind in showing me the local area and giving gifts. I told them about my wife's wish that I return with a book of classic Russian literature (in Cyrillic script). I left with five including two children's books for my son. Not only this, Valentina handed me a beautiful patchwork quilt she had made herself to give to Brigid. Overall, it was a wonderful trip and it was fortunate that I had arrived with my suitcase only half full!