This summer, Simon Lloyd's and my PhD projects of researching Earth's magnetic field of the Proterozoic started in the geomagnetic laboratory at University of Liverpool. After a month of literature review, our attention was fully caught by Canada, where (Neo-)Proterozoic dykes have been a focus of research for the last 30 years.  Therefore, the two of us, accompanied by Andy Biggin, immediately and figuratively set sails to Canada to kick-start the first phase of our projects.
Hoping to build on the foundation of Dr. Henry Halls' studies of the Franklin- and Grenville-Dykes, our journey's first stop had to be his lab at University of Toronto! While his studies focussed on determining the ancient field directions to gain knowledge about the palaeolocation of Laurentia, my research will deal mostly with palaeointensities of the Ediacaran period (635-541Ma). As part of the DEEP project, the goal of my project is to gain a better understanding of Earth's interior by analysing the ancient field strength while dealing with conflicting data of palaeofield directions in the Ediacaran period.
After one or two detours due to slight inaccuracies of our group's two navigators (who will remain anonymous at this point), we finally reached University of Toronto's palaeomagnetism lab in the outskirts of the University's campus. There, Henry awaited us with his treasure – drawers full of samples, floppy drives full of measurement data and an enormous amount of additional knowledge and kindly allowed us to use his samples and data for our projects. The picture below shows the main part of the lab with the most elegant magnetometer in the centre. Despite the samples being perfectly organised, sorting out samples that are expected to produce good palaeointensity results took nearly a full day. But it was well worth the effort, as we ended up with over 100 cylinder specimens from 16 sites of the Grenville dykes for my project and about the same amount of specimens for Simon's project.

In addition to the Grenville dyke samples, a second study area consisting of Ediacaran volcanic rocks of Newfoundland's west coast will be used in my study as well. The directions of these rocks have been studied by Dr. Phil McCausland and Dr. Joe Hodych in 1998. Samples from 10 sites of the so-called Skinner Cove volcanics are currently being mailed from Memorial University of Newfoundland to our lab in Liverpool for intensity measurements.
As Toronto, Canada's largest city, is always worth a visit, we concluded this first part of our Canada-adventure by strolling around the waterfront and taking a peek into downtown. It was great to see the lovely skyline and the CN Tower (shown in the picture below) while every other person was dressed in blue, thanks to a home game of the Toronto Blue Jays.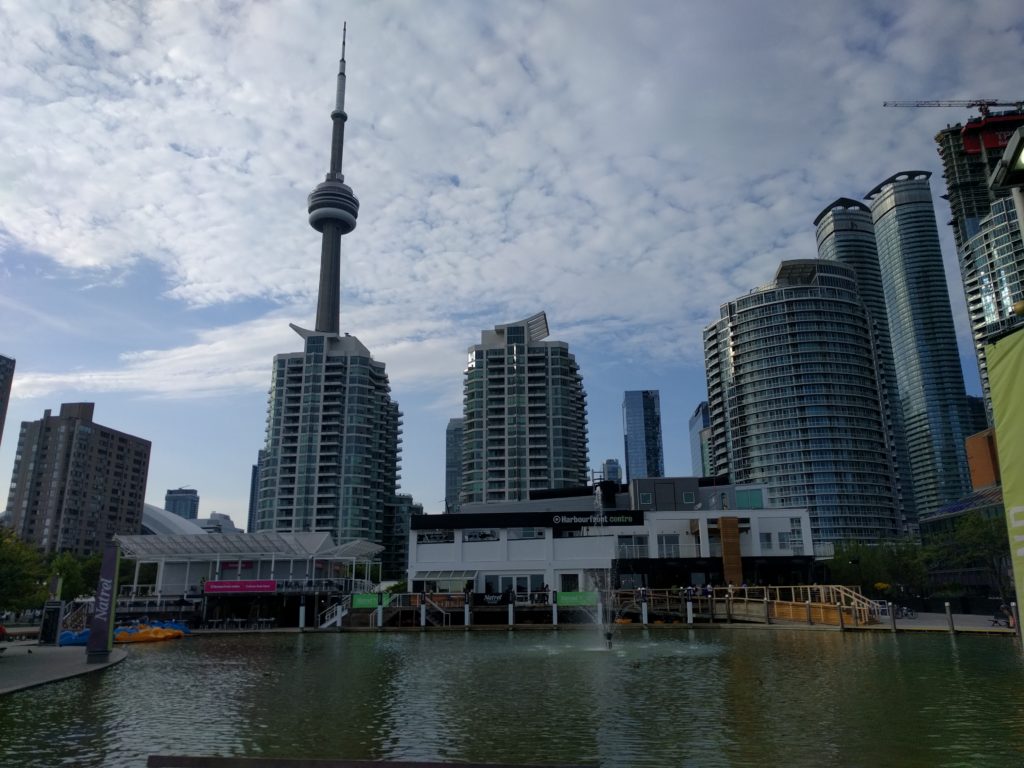 At this point we would like to express our gratitude to Henry Halls, Phil McCausland and Joe Hodych for their help and contributions to get us started in our projects. Now, back in the lab, we have started the first measurements and are excited to uncover the rocks' last secrets.