Determining Earth Evolution from palaeomagnetism (DEEP) is the new group formed within the University of Liverpool as a result of funding from The Leverhulme Trust. This exciting project will see us attempting to significantly improve global records of geomagnetic b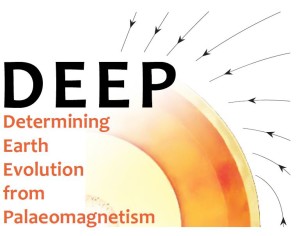 ehaviour over the last billion years, capture that behaviour in statistical field models, and compare it with the outputs of numerical simulations of magnetic field generation in Earth's core.
Palaeomagnetism (the study of records of ancient geomagnetic records preserved in rocks) has long been used to tell us about conditions in Earth's core in the past but the idea with DEEP is to take this to a new level and try to answer some exciting outstanding  research questions which you can read on our official DEEP website.
Anyway, the big news is that, with the arrival of the first two PhD Students, Simon Lloyd and Daniele Thallner, we finally started last week! They join Courtney Sprain, our new post-doctoral research associate (PDRA) who started a week earlier on our NERC Standard Grant "Phanerozoic palaeomagnetic variations and their implications for the Earth's deep interior". They will also be joined by two more PhD students, three more  PDRA's, and a NERC Independent Research Fellow over the coming months and years. Things are getting DEEP at Liverpool, and I for one, am pretty excited about that.